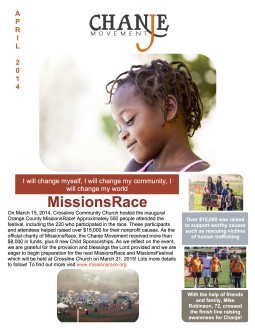 Having returned from Port au Prince on Saturday night, I wanted to get this update online to share about the wonderful progress through The Chanje Movement, our spiritual and humanitarian outreach in Haiti.  Inside the letter you'll find details of how funds were raised through last month's MissionsRace, all about the three shelters for children where we're helping change their future, and a few new ways (like the Amazon Smile program*) that you can take advantage of and bless our ministry.
MissionsRace was extremely encouraging, not only because we helped create and host it, nor simply because we raised over $8,000 for our international ministry, but it also blessed so many other ministries, such as My Refuge House, an outreach to women rescued from sex trafficking in the Philippines.
Being in Haiti also provided the opportunity to take the next steps in our micro-credit lending program.  We identified a potential loan officer and gave her a case load of one applicant in order to test her feasibility.  At the same time, one more small loan will now help another family start a small retail business to help feed their family.
Because of the groundwork laid on this last trip, we were able to establish a new beach-head for ministry in another community in the area, and in 2014 our teams will have new opportunities to serve and preach the Gospel.
The Amazon Smile program:
*Amazon will donate a portion of every dollar you spend to The Global Mission – at no cost to you!  This can be very powerful and add up quickly because so many people shop online at Amazon.  It's a very simple process – the first time you visit http://smile.amazon.com you will be asked to register your charity.  Type in "The Global Mission" and select our donation mailing address (Rancho Santa Margarita, CA.)  That's it.  From now on, each time you start your shopping at smile.amazon.com and check out, you'll be giving to the Kingdom!