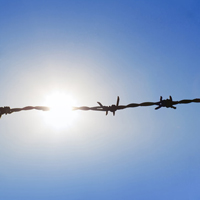 I was reflecting on fear earlier this month – how it is harnessed by the enemy to disrupt us as we pursue our vision and try to live out our faith.  We want to attempt great things for God, but fear derails us.
It could be fear of failure, fear of others' judgment of us or disappointment in us.  It might manifest as anxiety, depression, frustration, anger or a poor attitude.  But it debilitates.  Fear erodes.  It saps and drains.
I tend to conceptualize that faith is the adversary of fear, that if I can muster the proper amount of faith, I will be able to act despite my fears.  I picture a balancing act between them.  Is it faith vs cowardice?  Do I simply need courage – to act despite my fears?
So I find it delightful to discover that God doesn't agree with me in this word picture.  This is not to discredit courage.  But "sucking it up and going for it anyway" is not the remedy for fear.  Neither faith, nor courage, is the conqueror of fear – love is.  "Love casts out all fear." 1 John 4:18.
I don't need to try harder, trust more, or redouble my resolve.  I need to experience more of Christ's perfect love.  Like a sponge, I soak in His love, and as He permeates the fabric of my soul, there is no room for fear.  I am freed from all else.  Freed from performance, freed from disappointment, freed from judgment.  I am free to trust Him and experience the faith that He desires and provides, and the courage He assures, and free to attempt great things for the Lord.