What would our lives have been like in this world if God hadn't intervened?
It's a real question. Stop and think about your life.
I know that I would be buried in a grave marked with 1986 on it. That was the year that I finally quit on life, completely lost heart in trying to live in my own power, and went home one night to end my life. But God…
How and why is a story for another day. I do want to pause to celebrate that Jesus saved my life and gave me a hope for eternity exactly 25 years ago plus one week. The part that's on point for this post are those final two words: "But God."
I returned to downtown Port au Prince today for at least the fifth different month in the past fifteen since the earthquake. Some progress? Yes. Still heartbreaking? Absolutely.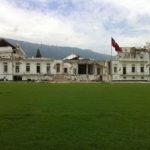 And I'm reminded that if someone doesn't do something, nothing will change. If God hadn't intervened through the young shepherd David, the Israelites would have been enslaved by the Philistines. If God hadn't intervened through Esther, the Jewish people of Persia and beyond would have been annihilated. If God hadn't intervened through my friend Kim, I would be dead. If God had not intervened through Jesus, our sin would eternally separate us from Him.
But God. He did, He did, He did…
So now, we must. We must be the heroes that He calls upon to intervene in the world. To care for the hurt, to rescue the abused, to heal the sick, to feed the hungry, to rescue the sinner. We must preach the Gospel and live it out.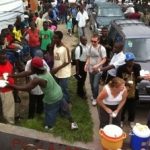 Today, I got to be a hero. I was able to help feed hungry people living in tents and on the streets, and do it proclaiming the name of Jesus. It looks different every day.
Jesus has sent the invitation – all you have to do is love people in His power. Come be a hero.
[divider_top]